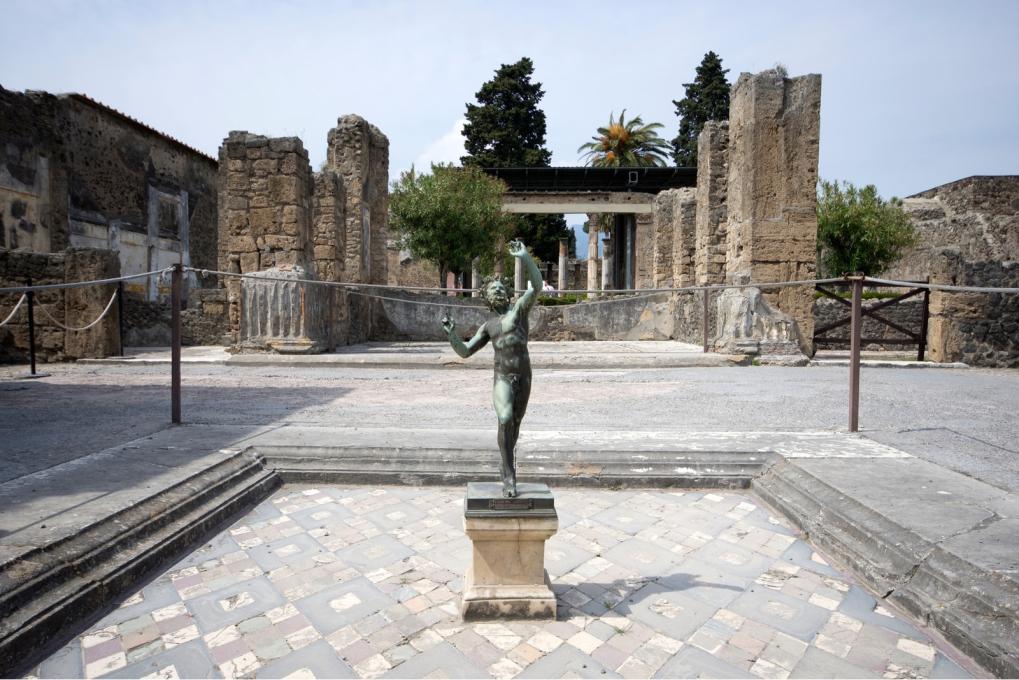 News

The restoration of the columns of the House of the Faun

Bombed, struck by an earthquake, fractured and shored-up. Finally intact once more following recent restoration

Following many turbulent years, the columns of the secondary atrium of the House of the Faun, bombed then subsequently rebuilt after the war, only to be damaged once more by an earthquake and then shored-up, are finally intact again, following the end of complex recent restoration work.

The House of the Faun, one of the most lavish Pompeian residences which spanned an entire block of almost three thousand square metres, endured the tragic bombing of the Second World War, like many buildings at Pompeii. In September 1943, two bombs fell on the dwelling, one of them landing on the tetrastyle (four-column) atrium which formed the access to the private area of the House, obliterating three of the four stucco-decorated tuff Corinthian columns. Only the north-facing column remained intact.

In 1946, the columns were immediately reconstructed according to the methods employed at the time, using various iron or galvanised sheet supports and cement mortars, which would later be revealed as unsuitable for conservation. Following the 1980 earthquake, the columns were subjected to further conservation interventions, which unfortunately triggered serious fracturing and fragmentation.

Prior to the recent restoration work, one of the columns was stabilised and shored up with pipes, metal joints and wooden planks, in order to support and preserve all of the fragmented parts, partially detached or entirely detached, while the others displayed a rather advanced level of degradation.

In order to be all-encompassing, the current intervention was particularly complex. More specifically, it was necessary to disassemble and lower to ground level via a winch the individual components of two of the columns, which were exhibiting particularly serious stability problems and which were in a highly fragmented condition - the shored-up one and the south-facing one - in order to then conduct an 'on the ground' restoration of the blocks. All those elements which were deemed no longer fit for purpose, and which would have further compromised the state of conservation (metal elements, cement grouts and restoration mortars that were no longer capable of securing the various parts) were therefore removed, in order to be replaced with new and more stable and durable restoration materials.

Once they had been consolidated and reconstructed on the ground, the various blocks were put back in their original positions, in line with the previously conducted study.

Lastly, in order to safeguard the original stone, stucco and plaster materials (which had already been worn by the wind and rain), operations involving cleaning, biocidal treatment, grouting, consolidation and protection were carried out on all the columns.